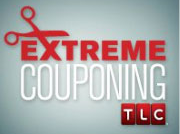 The series premieres Wednesday, April 6 with two episodes at 9 & 9:30 PM ET/PT, and will move to the 9:30 PM time slot the following week. Please go
HERE
to see some further information, some of our fellow couponers that will be appearing on the show.
I would advise you all to sign up at WUC, I spend much of my time here finding great deals, meeting amazing people that do the same as we do....you can use me as a referral my screen name on WUC is shesspecial . This is a great place to learn what the the featured couponers do to get where there at now :)
2.1 million viewers tuned in for the premiere EXTREME COUPONING, which aired as a one-hour special on December 29, 2010. Now, each of the series' 12 half-hour episodes introduces viewers to America's most extreme "super couponers," sharing why they are so driven by the deals.